We are all looking for new homes. We would love to have new homes for Christmas.
We are all great with kids. There are three were we worn born, ages 5yo - 16yo. The youngest loves to carry us kitties around...whether we want to be or not, and scratches are rare. Of course, we all love hugs! We all use the litter box, and are eating solid food.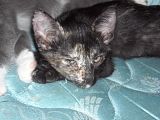 We all have names, although we wouldn't mind it too much if you renamed us. My name is Panther, and I am the only girl. The kids named me that because I am dark, and like to climb. I also love to play with the other cats, and chooses to hide and jump out at them when we play. The boys are Blanket and Monster (the older one). (Monster is an affectionate name, he is really very nice.) We all love to play with a laser light... we call it "the red bug". We also love to play with furry mice, crinkle balls, and jingle balls. We will use a scratching box if you provide one, and love to climb and play with cat condos and cat trees!
The kids agree that Blanket is the most affectionate... he asks to be held, and sleeps in laps. If you let us, we might choose to curl up at your feet in bed. We love to sit in open windowsills and sunny patches on the floor. We might like to try going outside, it smells so good. We don't go outside here because we are afraid of the monstrous dogs in the neighborhood that eat cats. Our people have rescued several kitties from the dogs...it is really scary. We also like to watch the gerbils and fish that live here too.
Please consider bringing us home as a Christmas gift for yourself or a fun little kid that you know!