We have been lucky enough to find time to get over to the playground and the Colorado river a bunch lately. The high temperatures have been in the middle to upper 70s this last week, prompting us to spend our time outside while the days are nice. The massive amount of rain we have seen has left everything a little bit soggy though. I haven't been writing a whole lot lately, at least not here, but I have had the camera out for a good amount of time. I thought I would share what we have been spending our time doing lately.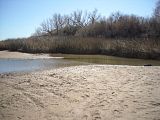 This is the view as we go to our favorite spot on the beach. This part of the river isn't visited as often, but I don't understand why not. It is so peaceful. You are looking at the junction to a small stream of water running into the Colorado river. We like to think of it as our own private beach, but we have identified tracks from other people and their dogs. Luckily, the other people who visit this spot are considerate enough to leave it looking like they found it.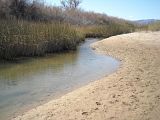 And here is the view looking back up the small stream. The first time we saw this, we were hooked. One of these days we will probably just disappear back into that grass, but the water is still a little bit cold for that right now. The bank gets too overgrown to walk on, and we would have to take to the water to get much further. It is an adventure we look forward to!
We also keep looking across the water. Those tall marshy grasses are probably home to some forgotten wildlife. We would love to wade across and go looking into the grass. The water runs so clear, and we can see right into the base of the grass. We have spent quite a bit of time talking about what kind of creatures might make that their home. We have also been trying to guess how much farther over the water goes... there are birds that land not too far away from us on the other side. And the tree line is a good indicator of where dry land must be!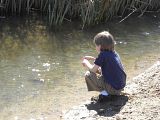 This is one of those places that makes you just stop and take the time to smell the proverbial roses. Little A has always been so drawn to water. Sometimes he just sits at the edge of the water and you can just see how much he longs to dive in. When he grows up, I would not be surprised to find him studying life in the water, although he seems to show no favoritism to fresh water or saltwater. He just loves all water!