"Approximately 16% of US children (~ 9 million) aged 6-19 are overweight or obese. According to the Institute of Medicine, childhood obesity has doubled over the past 30 years for preschoolers and adolescents, and more than tripled for children aged 6-11 years old."
WOW! I was scanning through some Quick Facts about Nature-Deficit Disorder at education.com and ran across this quote.
Is that just outrageous or what... no wonder people look at my kids and wonder how I "keep them so thin".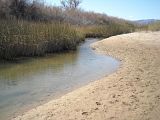 Ummm... I researched nutrition, and did not just follow the government standards that no one actually fits into. I feed my kids lots of fruits and veggies, and keep sugar out the door. I allow for, and actually expect, lots of active and creative play.
I even take walks around the neighborhood with them... yes, the 6 year old can walk a mile easy. I also find "neat" places to take them, like hiking through BLM land, or just off the boat launch at the public park...
It can be quite easy when you get back in the hang of just doing it! Just open the door and walk through it. Need some ideas of what you can do out of the house... stay tuned, I'll try to post some of the things that we do, or ideas that we have.