Do you ever just get tired of watching television?
I love having satellite and a DVR. We record our programs and watch them later. This way, we can fast forward through the commercials! We absolutely love this record feature! So we record shows we want to watch when we don't want to watch tv.
The downside? We don't ever feel like watching that much tv! Seriously! We have somehow built up 150 hours of recorded television shows that at some point we really did want to watch. And that is the limit. Now we have a daily crisis of, "OH NO! What can we delete so we can record today's shows?!"
No, we don't sit down and watch the shows. Even at that point we would rather be doing other things. I guess you could say that we have too much we WANT to do, and not enough hours in the day to get it all done! That is when we have a family meeting to prioritize our activities...
Living here, with this heat, and some of the worst scenery we have ever lived with, outside activities are not so close to the top. This is very strange for us. Usually, I have to drag the kids into the house kicking and screaming every day! So what would we rather do inside the house than watch television?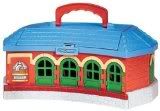 This week the Thomas the Train bin came back out, and every day is filled with tracks, trains, and creative play. The
Thomas the Train Round House
is often the center of activity, and is a regular part of the track. The stuffed animals are even getting involved, and being rescued by trains. I think some of the trains can even fly through outer space now... it seems the boys upgraded them!
Last week it was the
Hot Wheels
that filled every room of the house! The boys have been inspired to design tracks for their cars to run. I have to admit I have been pleasantly surprised by their creativity. We had books, and stuffed animals, and even other larger vehicles that became part of the tracks, but not a single piece of furniture was used!
I did have to put my foot down when they started jumping through the air across the living room... luckily there were no cars underfoot at the time!
Before those, it was the
box of musical instruments
spilled across the living room floor, and several new songs being written and performed each day. Before that it was coloring... and the house has new meaningful wallpaper now! LOL (But the crayons are melting, so we put them away for the year.)
My daughter and I are listening to audio books, and having great talks about everything. And, of course, she never has a sketch pad too far away!